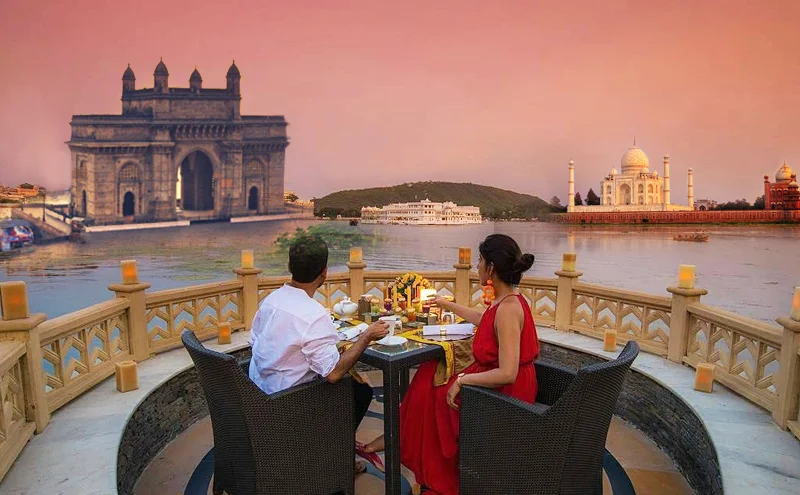 5 Safest and Best Honeymoon Destinations From India
Weddings and honeymoons are things that are always in demand. Many people dream of getting married and spend most of their time thinking about marriage preparations. In that planning, honeymoon plays a big part. Booking the best romantic destination for 'the honeymoon is mandatory because this part of your journey should be perfect without any troubles. Safety will always be a priority post the COVID-19 crisis and people will be looking for destinations that are safe, less crowded, and clean. Now that you've landed here, we believe, either you or someone close to you wants to know about the safest and best honeymoon destinations from India.
In this blog by ineedtrip, we have handpicked five safest and best honeymoon destinations from India to make your trip pleasant and colorful. Moreover, at the end of the blog, we'll also help you with the links to our best packages for each of these destinations.
Bali
Mauritius
Maldives
Singapore
Dubai
Bali
Bali is an Indonesian island famous for forested volcanic mountains, coral reefs, iconic rice paddies, and beaches. If you and your better half-dream of an exotic and magical honeymoon, Bali will suit you perfectly. Bali's natural beauty combined with rich cultural offerings has made it one of the best honeymoon destinations from India. In addition to that, active nightlife has made it one of the best honeymoon destinations from India.If newly married couples want privacy, there are plenty of gorgeous places where couples can peacefully spend their time.
Uluwatu in Bali, has top ratings as one of the most beautiful places in Bali. Above all, you can visit the temple Uluwatu and watch Kekac dance (included in all packages by ineedtrip), after which you can attend the Saturday night party at the beach. Other highlights of Bali include enjoying a traditional lunch in Kintamani and getting blessings from Goa Gajah temple. A romantic walk by the broken beach during sunset is one of the best things that every couple should try in Bali. You can visit Tanah lot temple and do beach hopping in Canggu.
There are some traditional spots where everyone can go and see old things. If you're a fan of greenery and challenges, you can hike Mount Batur. If you're a beach lover, the Nusa Islands are probably the best place to start your trip from, many beaches from these islands rank in the list of top 50 beaches in the world. Check out our Bali Honeymoon packages for a cheap and safe visit to Bali under a decent budget. Read more about Bali in this blog on the 7 best places to visit in Bali.
How to reach Bali?
By flight you can land in Ngurah International airport, which is located in south Kutta district and is 13 km away from Denpasar, capital of Bali. You can also take a bus from Indonesia, but you'll have to travel by bus for more than 24 hours. Bali's best time is June or September because of the climatic change that occurs at that time. Visiting Bali in May, June, and October might help you save some money.
Mauritius
Located in the Indian Ocean, Mauritius is popularly called Paradise Island. Powdery white sand with ethereal beaches defines Mauritius. Places in Mauritius are genuinely romantic, and hence, it has become a go-to destination for newly married couples.It has both adventurous places and places of a visual treat, that couples can encounter while exploring the country. All the world-famous water sports, restaurants, clubs and trendy bars are there in Mauritius. The average temperature ranges from 20 and 28 degrees C. Temperature falls in winter, but there won't be a drastic change in climatic conditions. Midnight candle dinner at the white shore with your loved one will make your trip complete. If you wish to engage in adventurous activities, try beach hopping. Another romantic thing to do would be done in Mauritius is hiring a car for long rides. This island consists of public roadways and excellent motorways for long drives by the blue waters and sunset. If you want to go out shopping, Grand Baie Bazaar, Goodlands, and Quatre bones are the famous shopping places in Mauritius. The seven-colored earth, a wonder of its own is located in the southern part of Mauritius, this place beside the underwater waterfall attracts photographers and nature enthusiasts from all over the world.
Read more about the best things to do in Mauritius here.
How to reach Mauritius?
You can reach Mauritius by air. Sir Seewoosagur Ramgoolam International airport is located in the city of Port Louis, which is 48 km away from the central city.
Maldives
Visiting the Maldives with your loved ones will fulfill your dream of visiting heaven (everyone wants to know what heaven looks like right?). You can go through lots of new experiences with your partner on your honeymoon trip.
Exploring a titillating destination with your loved one will relieve you from stress. One exciting thing to do in Maldives is experimental diving, especially for honeymoon couples who will get enough moments to deepen their love strings. You will have a visual treat deep inside the water by seeing colorful fishes, turtles, dolphins, and more.
There are plenty of spas to make your day refreshing and energetic. Maldives Rangali restaurant is a popular place to stay amongst honeymoon couples. The room will change to a romantic bedroom from a restaurant. You will be served champagne along with a delicious breakfast. Read our blog on the best places to visit in Maldives to plan your trip and our blog on the best things-to-do in Maldives to know how you can spend your day having fun.
How to reach the Maldives?
(Male international airport) is the main airport that connects the Maldives to countries like India, China, and Srilanka. Direct flights are available from Dubai.
Singapore
Located in SouthEast Asia, Singapore is filled with different sightseeing experiences most of which are artificial.Singapore is also called an island country, and as a honeymoon destination, it disappoints none.There are so many places that newly married couples can visit to create cherish-able moments. Changi coastal point is one of the romantic places in Singapore for newlywed couples. This place is famous for the stunning views of the sea, offshore kalongs, and boats. It is popularly known as Romance 101. Ritz- Carlton is famously known for its view of Marina Bay and Singapore skyline. Bukit Batok is a famous place for taking post-wedding photography. The beautifully landscaped view has made this place famous for wedding photography.If you want to find more about the must visit places in Singapore, read our blog. Oh, and did we mention the beaches of Sentosa? Sentosa is an artificial island created by Singapore itself, that has white sandy beaches and more adventures. If you're into Hollywood, you can visit the universal studios and if you want to try your hands on safe skydiving then help yourself with indoor skydiving at ifly Singapore.
How to reach Singapore?
Changi Airport is one of the best-connected airports all over Asia, and it is an important hub for international aviation. Singapore is connected to Malaysia, Kuala Lumpur, Johor Bahru, through the train.
Dubai
Dubai is popular for its luxury shopping and ultra-modern buildings. Despite being a business hub, it is a perfect place for couples on honeymoon. Just imagine dining with your partner on a cruise through the waters of Dubai marina. Dubai consists of lots of cruises in which Alexander Dhow is one such Cruise where you can have romantic dining with your loved one. A live singer and a dancer will be on board who will entertain the whole crew. They serve an extensive buffet to treat your appetite. Dhow cruise experience is one of the best things in Dubai on the honeymoon. Moreover, if you feel like touching the sky, a hot air balloon ride is an adventure you wouldn't want to miss. You do know that we are not mentioning the obvious Burj Khalifa, Dubai Mall, Palm Jumeirah, and others right? If you want to read about them, you can visit our blog here. Other things that are to be seen in Dubai are safari and some different cruises, and you can also rent a Limo in Dubai for travel, which will be an excellent experience for you. Traveling to the golden desert in Dubai will make your stomach churn. You can have a great experience in seaplane flight.
How to reach Dubai?
Dubai International Airport is the only busiest airport in the United Arab Emirates. You can travel by bus after reaching all the other emirates. However, Oman is the only way to enter Dubai without a permit they will be charging only 3000 Omani Rial. Last but not the least, if you need help in planning a Dubai trip, you can read our blog on how to make the perfect Dubai trip plan.
The best part. As promised earlier, here we are with the best part of this blog, the packages. Above all, Ineedtrip offers customized honeymoon tour packages for all the above-mentioned destinations. Here are the links to the packages.
All our packages have a long list of inclusions and their design promotes safety. You can compare the price of our packages with any other tour operator of your choice, you won't find the same list of inclusions under such a decent price. Moreover, we'll make sure you spend the entire time joyously, and just in case there's confusion, we'll be there for you 24/7 for assistance. So, what are you waiting for? Check out our package section and customize your own package to one of these safest and best honeymoon destinations from India.